Posted by justinfreid
2 Comments
In many industries and niche's, Adwords can be an extremely competitive and volatile channel. With many competitors bidding for the top results and positioning themselves to get the best ROI they can, bids are changed, tools are used and every account manager is optimizing their quality score and trying to increase their click through rate.
Some of the very saturated markets, such as education, insurance and financial lead generation, advertisers are affected by publishers that 'spam' paid search results and Google's lack of caring. These publishers will create multiple Adwords accounts that all bid on the same list of keywords. They will all use different landing pages and display URLs but will use redirects to send all visitors to the same landing page. Lead generators pay the publishers to set up these different 'spam' sites.
As you can see the display URLs are not relevant to the financial lead generation space. They also all direct to the same landing page. (I have chosen to not mention the LP address) In this case the advertisements take up the top 3 spots for the term 'Payday Loans'. The term payday loans is an expensive term, add in these spam advertisers and it becomes impossible for legitimate businesses and advertisers to compete and have a positive ROI on their ad spend.
Here is another example: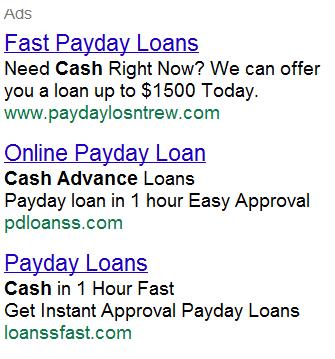 Google does have filters and spam detection in place to stop issues like this from happening but they are not very effective. From our team's personal experience it can take hours for Google to figure out these sites are not legitimate and shut them down. As anyone who works in lead generation or e-commerce knows, a few hours during your prime selling slot can lead to you loosing thousands of dollars a day. In this case, these publishers are doing this on a daily basis, which can lead to tens of thousands of dollars being lost because Google does not have proper spam detection in place.
Another Example of an entire SERP: (Click to enlarge)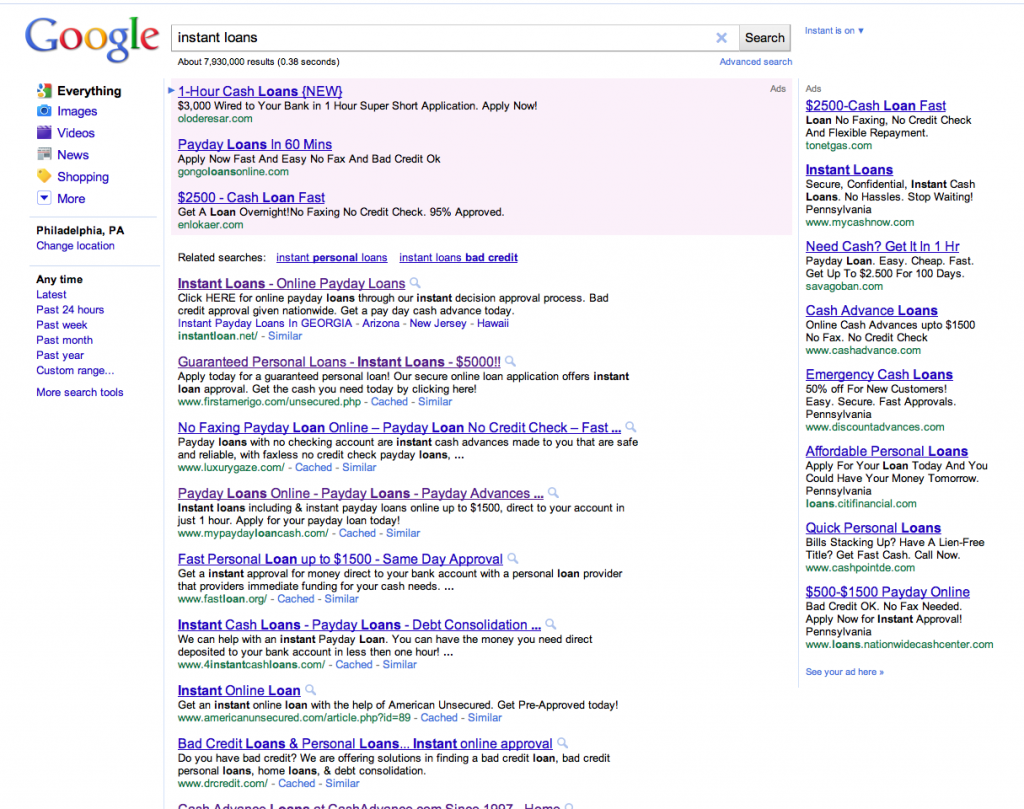 With Google focusing on organic spam so diligently these days, I believe it is time to start putting some resources toward relegating the Adwords spam as well. Or maybe they are ignoring these issues because those spam sites are making them $10-$15 a click?