Posted by justinfreid
0 Comments
To run a successful paid search campaign you need someone with a wide array of skills. When done correctly, paid search can be a driver of new leads, sales, brand awareness and move potential customers through the purchase cycle.
So What Exactly Is Needed To Be A Great PPC Manager?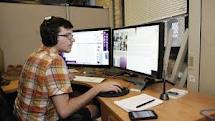 Business Minded: Running a successful paid search program is more then just driving people to your company's website, it driving the right people at the right time to your company's website. A paid search manager should understand more then just the marketing side of a business and should have a full grasp of the business they are promoting. Do certain customers or 'personas' perform better once the reach the site? Do those personas respond differently to ad text variations or enter different search queries? These are questions a good PPC manager should be asking.
On top of understanding who your potential customers are, a successful paid search manager must understand the financial aspects of a company as well. Knowing which products provide the most margin and which products increase the lifetime value of a customer can play a large role in bidding strategies for the campaign.
Analytically Minded: Paid search is more than just clicks, impressions and conversion. There is a plethora of data available through engine interfaces and even more data available through site side analytics. A successful PPC manager will be able to digest and regurgitate this data into actionable reports. Being able to manipulate and analyze data into insights that can help boost performance is essential to being successful.
Creativity: Only so much can be written within a paid search ad. Character limitations provide PPC managers with small canvases. Being able to create click provoking ads is a skill set that should not be overlooked.Creativity can also play a pivotal role in formalizing your keyword strategy. Finding areas of opportunity that may not be targeted by your competition can help you get ahead of them.
Agile: Paid search is an industry that is always changing, new tools are being released, new ad formats are available, competitors are doing everything they can to get ahead. Being able to remain flexible and adapt to changes within the industry can be a pivotal characteristic to have. The more flexible a PPC manager is, the faster and better they will react to the continuously changing atmosphere.
A Want To Be More Than A PPC Manager: When you are the guy/girl who knows biddable media, chances are you are doing more than PPC. With behavior of people online changing a PPC manager must understand social advertising, display, organic search and all PPC based networks. The role of paid media is continuing to develop online and a thirst for knowledge and mastering of these skills is an extremely important character trait.
It is not longer a SEM manager's job to sit around in Adwords and Adcenter, if you want your client to be successful, a SEM manager must be versatile and have the above traits.