Posted by justinfreid
1 Comment
One great feature in Google Adwords that we at Front Street Consulting use with all of our PPC accounts is day-parting. Day-parting enables you to assign percentages to your bids depending on the time of day. This feature can be extremely helpful when you notice trends in your traffic based on time of day.
Though day-parting or ad scheduling you can run your ads at 100% all day or set specific times and percentages to bid at throughout the day. Let's say you run a business on the east coast and most of your site visitors come during the work hours 9 to 5. Traffic after 5 has proven to be of worse quality. By using day-parting your can easily set the time period after 5 PM to a lower bid percentage such as 70% or 80%. This will decrease your bid by the allotted amount decrease your CPC for those clicks.
Keep in mind when lowering bids you will lower your ads in rankings and see a drop in impressions, clicks and other statistics. But if it makes those hours more profitable then it is a great feature to implement.
How to set up day parting:
In your Adwords account select the settings tab
On the far right, click the text under the 'Ad Scheduling' column. A pop-up window should show up(see below screen shot) that will let you use drop down menus to select times of day and bid percentages to assign to those times of day.
Once complete, save and copy to the days of the week you desire.
Here is a quick screen shot of what the interface looks like: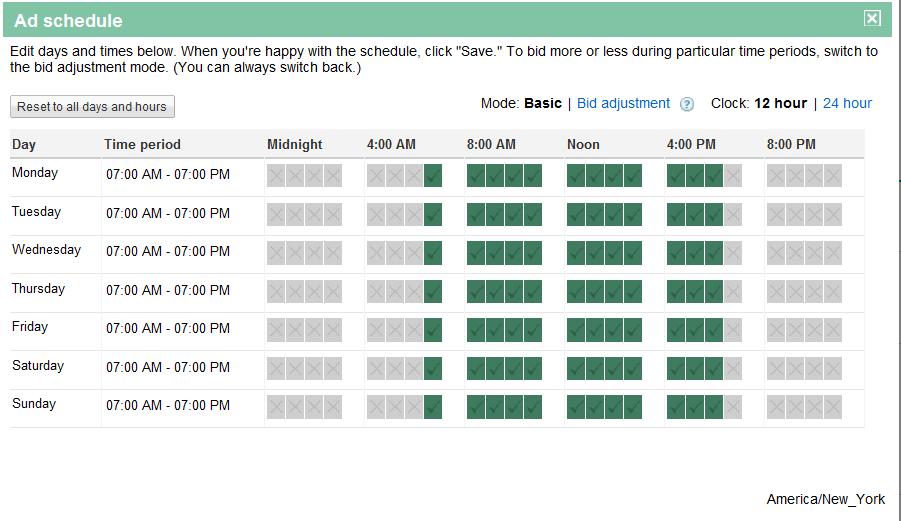 You will want to keep an eye on the amount of click you receive over the hours where you have used day parting. Chances are your first set of bid percentages will not be perfect. Experiment and keep an eye on your KPIs. Don't be afraid to test new percentages at different times throughout the day.
If you happen to have your campaigns set up by geographic locations remember to consider the different time zones for those campaigns. You don't want your ads 3 hours behind schedule for your west coast based campaigns!